European Strategy Forum on Research Infrastructures
Find events, workshops and meetings organized by ESFRI. Stay updated with their agenda and register online to attend.
Home > 64th ESFRI Forum Meeting
64th ESFRI Forum Meeting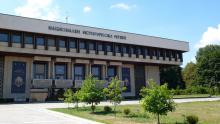 The 64th ESFRI Forum Meeting will be held from the 19th to the 21th of March 2018 in Sofia, Bulgaria. ESFRI delegates, permanent experts and observers, may find the agenda of the meeting below. Paraller SWG Chairs meetings and Executive Board meetings will be held at the Ministry of Education and Science of Bulgaria and the Boyana Residence in the frame of the EU Bulgarian Presidency. Two side meetings will be held as well: Executive board and SWG Chairs with eIRG representatives and the ESFRI Search Committee meeting - to be held at the Laboratory complex of Sofia Tech Park.
Agenda Registration Venues Travel and Accommodation Social Events